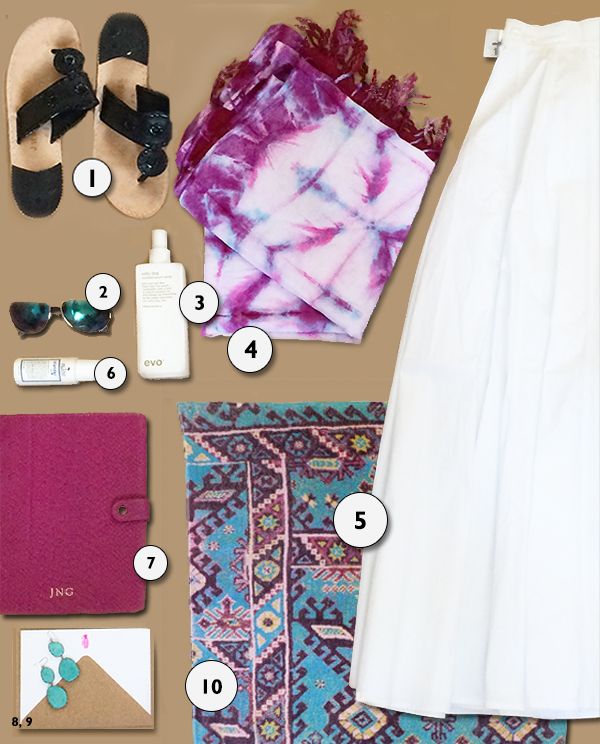 I love black even when it's hot outside, so when I spy hot-weather classics like good ol' Jack Rogers clad in my favorite non-color, I'm all over it. Here's what I took with me on my recent trip to Florida... thanks to those Jacks, a pretty white skirt from Island Company (plus its necessary accompanying mini steamer, ha!) and a few other brands long-trusted by Floridians, I managed to stay comfy despite temperatures pushing the triple digits. Hope these trusty items inspire your sunny day suitcase, too!
1.
for embracing an island classic...
Jack Rogers
Navajo sandals,
110.00, jackrogers.com
2.
for sunny days...
Costa
Wingman sunglasses,
more about those here
3.
for beachy waves...
evo
Salty Dog salt spray, 17.50, salons and
amazon
5.
for dining al fresco...
Island Company
Mar-a-Lago skirt,
155.00, islandcompany.com
7.
for poolside and airplane reading...
Graphic Image
iPad case,
145.00,
horchow.com
9.
for that little something extra...
BaubleBar
Boho drop earrings,
38.00, nordstrom.com
10. for laying out on the sand... Fresco Towels Aztec beach towel,
149.00, burkedecor.com